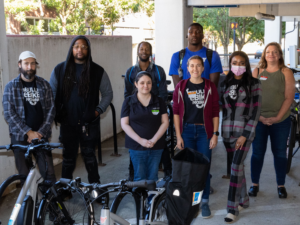 The Bull E-Bike Pilot has made significant strides since its official launch date back in August. In October, the team welcomed its final cohort of participants, fourteen individuals working in downtown Durham's food and hospitality industry.
Two participants do not speak English as a primary language and were accommodated with a Spanish-speaking orientation session. In addition to their e-bike, helmet, accessories, and safety equipment, cohort six and seven participants received additional reflectors and bike lights because of daylight savings time.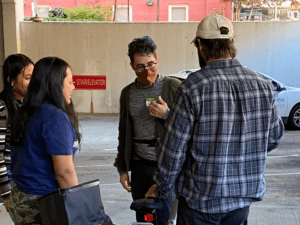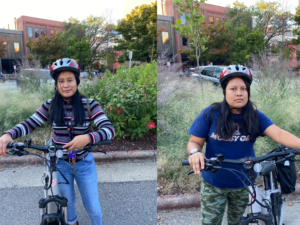 Throughout this month, the team continued with the off-boarding process of the 50-plus participants by completing exit interviews with graduate students from the University of North Carolina at Chapel Hill's Department of Regional Planning (DCRP). The data collected from these interviews will help the team identify the impact of an e-bike on the participants' commute and ideas for what's next for the e-bikes. The DCRP team is also assisting the City staff in creating an implementation guide to share the highlights and lessons learned from the pilot. The student team and City staff are currently working through the draft phase and will have the guide finalized in December.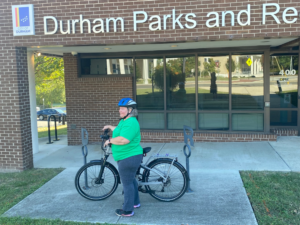 In addition, the pilot's videographer and communications lead finished filming the testimonial videos of three participants. The videos highlight the experience of the participants from their application, acceptance, orientation, and duration in the pilot. The team will premiere the video during the pilot close-out meeting with Mayor Elaine O'Neal.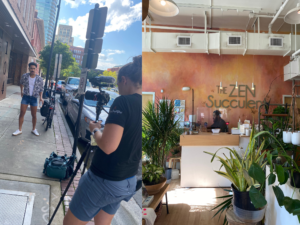 As we approached November, the team marked the end of the pilot's three-month test period. Our reports show that more than 50 participants have used the e-bike and tracked their travel behavior on the NREL OpenPATH phone app. A dashboard to view the pilot's impact is now live. The data shown on the dashboard has limitations, including missing participant trips and tracking outside pilot participation.     
What's Next: 
The pilot's team will continue off-boarding the remaining participants from cohorts six and seven. In addition, the team will work through our ideas for "what's next" for the Bull E-Bike Program. We will continue sharing our journey and including the highs and lows in the upcoming implementation guide which will be finalized in December and shared with the public in January.