Awarded to Durham in 2018, the Mayors Challenge is a competition designed to help city
leaders think big, be bold and uncover inventive – and, ultimately shareable – ideas that tackle
today's toughest problems.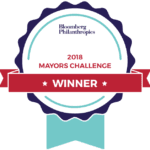 The Mayors Challenge, sponsored by Bloomberg Philanthropies, is a nationwide competition
that encourages city leaders to uncover bold, inventive ideas that confront the toughest problems
cities face. Cities face bigger challenges than ever before. Innovation is no longer optional; it's
necessary so cities can continue to deliver results and improve life for residents. The 2018
Mayors Challenge is designed with this urgency in mind. The competition returned to the U.S. as
one of the first investments in the Bloomberg American Cities Initiative, an effort to help U.S.
cities generate innovation and advance policy.
Project Updates and News
Find informaton about the latest project updates, news, events and more.