The Bull E-Bike Pilot continues to make strides to increase mobility with participants who work across downtown Durham. Since August, 47 e-bikes have been placed on the road, and six cohorts have completed their orientation and onboarding requirements. Since the last month, the team has developed a strategic game plan to ensure all orientations run promptly and provide each participant with the necessary assistance they need before, during, and after they participate in the pilot.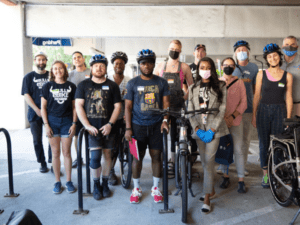 Orientations are held at the Bull E-Bike Service Center, which is in the Chapel Hill Parking Deck and is centrally located to many of our participants' jobs.  Nineteen people attended one of three orientations in September.  The last one included a guest appearance from the City's Director of Transportation, Sean Egan.
The team partnered with the National Renewable Energy Laboratory to use the OpenPATH phone app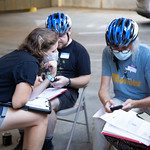 to collect data on the trips traveled by the participants. Between the August 15 launch date and Sept 14, 711 e-bike trips have been confirmed and taken by the pilot's participants. These trips have helped shift travel behavior away from travel modes like driving alone and Lyft/Uber to using the e-bike. The 711 trips in the first month realized a reduction of 948.2 pounds of CO2 emissions in Durham.  
In early September, the pilot received two media spotlights. The first was a news segment on WRAL that highlighted the e-bike experience of a participant from cohort three. The second news segment came from Hola News, a local Spanish media outlet. The feature on Hola News holds significant value because the team is working on expanding its efforts to reach more applicants from the Hispanic and Latinx communities.  
The pilot's videographer and communications lead are developing a testimonial video capturing the personal narratives of a few participants. Filming began this month and will continue into the early weeks of October.  
Many participants from the first cohort concluded their participation in the pilot and completed an exit interview when they returned their e-bikes. The exit interviews are thirty-minute conversations between the participants and a member of the UNC-Chapel Hill Department of Regional Planning team to learn how their e-bike experience changed their commute and what they hope to see from the City once the pilot is over.  
Next Steps: 
The team will continue scoring and reviewing all participant applications received and prepare to onboard the next set of participant cohorts for the last set of orientations. Over the next few weeks, the team will lead the exit interviews for the remaining cohorts.