September is National Hispanic Heritage Month which promotes Hispanic and Latinx Americans' history, culture, and contributions. To celebrate this, we are recognizing  Nuria Fernandez, the first Afro-Latina to lead the Federal Transit Administration, and Federico Peña, a former Secretary of Transportation.  
Nuria Fernandez was born and raised in Panama City, Panama and migrated to the United States to pursue her education in the early 1980s. After obtaining a degree in Civil Engineering and a Masters of Business Administration, she began her career as an inspiring leader in the transportation industry nationwide. While working for the Chicago Department of Public Works,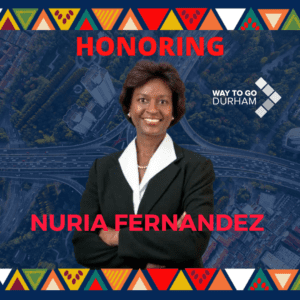 she coordinated and planned $1 billion worth of improvements to the O'Hare International Airport. During this time, she also worked as the Special Assistant to the Assistant Secretary for Budget and Programs at the Washington Metropolitan Area Transit Authority. In this role, she oversaw construction for the $2.1 billion Metrorail extension project from 1994-1997. In July of 1997, Nuria was appointed Deputy Administrator of the Federal Transit Administration. She used her experience in transportation, finance, program development, and construction to advocate for improvements to public transit. After her tenure in that role, her career continued to advance as the Chief Operating Officer of the New York Metropolitan Transportation Authority. While working in New York, Nuria developed and implemented the $24 billion capital improvement and environmentally sustainable program of projects to improve transit.
Her impact as an Afro-Latina in transportation did not stop there. In 2013, Nuria became General Manager and CEO of the Santa Clara Valley Transit Administration. Her leadership required her to oversee over 2,100 employees, projects, programs, and transit services in Silicon Valley for over two million people. In this capacity, she managed the completion of the first Bay Area Rapid Transit (BART) heavy rail service into Silicon Valley, a 10-mile, $3 billion line that opened to passenger service in June 2020. In June of 2021, her career returned to the Federal Transit Agency after she became the first Senate-confirmed woman of color and the first Afro-Latina to lead the Federal Transit Administration. 
Federico Peña was born in Laredo, Texas.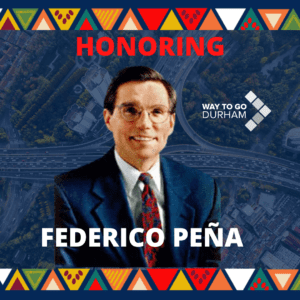 His early career years were spent as a civil rights attorney for the Mexican-American Legal Defense and Education Fund. He represented teachers and students in the first tri-ethnic desegregation lawsuit in the U.S. and drafted laws promoting bilingual and multicultural education. His work as an attorney prepared him for a career in politics in Colorado, where he became the first Hispanic Mayor of Denver. As Mayor, he funded the building of the Denver International Airport and supported many other public works and transit projects to enhance mobility across Denver. In 1993, President Bill Clinton selected Peña as his administration's Secretary of Transportation. "As Secretary of Transportation, he built relationships that allowed U.S. airlines to fly worldwide and started discussions about innovative technologies such as driverless cars" (Hooper 2018).
We are proud to recognize Hispanic history as a significant part of American history. "Latinos are a crucial part of the transportation leadership and workforce nationwide. Hispanics make up the 2nd largest proportion of transportation workers. Their contributions have made American transportation possible, which is why we're ensuring workers can access good-paying jobs that help build the safe, modern, and equitable infrastructure America needs" (2021). Happy Hispanic Heritage Month!