Women represent under 15 percent of the engineering workforce. Of the 300,000 reported jobs in Science, Technology, Engineering, and Mathematics (STEM) in North Carolina, women represent only 28 percent. In honor of International Women's Day 2023, the City of Durham's Department of Transportation will show how we increase representation of women working in STEM by highlighting the five female engineers from our department.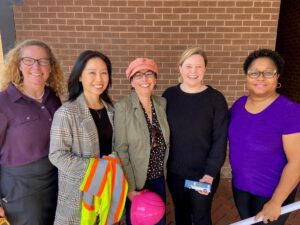 Meet Robin Young: 
Robin obtained her degree in Civil Engineering from NC State University. As a Professional Engineer, she has worked for multiple agencies for City government in an office and field environment. Robin has worked with the City of Durham for five years but feels it has been much longer since her father worked for the City as well. Her experience as a female in a male-dominated field has been positive, but she has experienced moments where her male counterparts underestimated her expertise. To combat those moments, she remained positive because she knows her value, knowledge, and engineering experience will surface in the end. To encourage the next generation of female engineers, Robin's advice is, "If you enjoy math, puzzles, and problem-solving… Go for it! Find the fun in it and find your people; this field has a lot of great ones." 
Meet Hyeseon Youm: 
Hyeseon was born in South Korea and received her bachelor's and master's in civil engineering from ChungAng University. She later obtained her Doctorate in Civil Engineering from NC State University. Alongside her academic accolades, Hyeseon is a certified Professional Engineer and a member of the Institute of Transportation Engineers. Her career with the City of Durham began in 2016 as an intern, and in 2018 she was hired as a full-time engineer for traffic operations. Hyeseon is proud to share that as a female engineer, she has never faced adversity due to her team's understanding that gender does not determine one's ability to succeed because your "skills and talent can speak for you." In addition, she wants to inspire the next generation of female engineers to "not let society or traditional roles define you – let your talents and personality speak for themselves, and you'll find yourself where you are needed." 
Meet Leslie Tracey 
Leslie has worked for the City of Durham for 15 years. She is the Engineering Manager of the Operations Division, advising on new projects for pavement markings, traffic signals, and signs. Leslie's entrance into the engineering world differs from others because she spent eight years utilizing her undergraduate journalism degree as a newspaper reporter in Texas and Virginia before deciding to pursue her education in engineering further. Leslie obtained her engineering degree from North Carolina A&T State University. When she began her career at the City of Durham, she was the only female engineer in the City's Transportation Department. Given this, she is proud to share that she experienced no adversities in her engineering career. Most notably, Leslie is happy that more female engineers are in the department because "diversity leads to better collaboration and problem solving, which is what engineering is all about." To encourage the next generation of female engineers, Leslie wants them not to "let the fact that engineering is typically a male-dominated field deter you. If you're interested in science and math, engineering is a great career. It is all about collaboration and working in teams to solve problems, so there is a great demand for people working well in this environment. Transportation engineering is emerging as a growing field where people of all backgrounds and disciplines are welcome." 
Meet Erin Convery: 
Erin received her degree in Environmental Engineering from Duke University and changed allegiances by earning her Masters in City and Regional Planning at UNC-Chapel Hill.  Her career has taken her to Washington, DC, to work as an environmental engineer and back to the Triangle where she has worked in multimodal transportation planning in the private and public sectors.  Currently working as the City's Multimodal Transportation Planner Manager, Erin works on biking and sidewalk improvement projects. 
Erin's experience as a planner and engineer (or a "plangineer," as some call it) allows her to meet people where they are and foster communication and collaboration between the two disciplines. She recommends that the next generation of female engineers "seek out peers and mentors to support their aspirations because having a supportive community can make all the difference." 
Meet Earlene W. Thomas: 
Earlene is a proud graduate of NC State University's Civil Engineering program.  Through her 20-plus years of experience, she has done it all, starting as an entry-level engineer with the Transportation Planning Department at NCDOT and working her way up to serving as the Deputy Director. With the City of Durham since 2017, Earlene is the Development Review Engineer and uses her transportation planning expertise to work on development projects that help construct transportation projects for adopted transportation plans.  
Earlene accredits her robust support system of peers and mentors to her success and is thankful she has not experienced any adversities working in a male-dominated field. Her words of wisdom for the next generation of female engineers is, "Work hard and never give up. You do belong here! You can do and accomplish your goals, but you must believe in yourself first. There are many lessons to be learned along the way. Align yourself with strong mentors/coaches, and don't be afraid to ask questions along the way."
Today and every day, we celebrate women's accomplishments and value their voice, expertise, and ability to take up space in society.  In the Department of Transportation, we are proud to share the stories of our female engineers to inspire and uplift the next generation of engineers. Significant strides still need to be made to ensure the number of female engineers increases, but we are proud to share how we are a part of that change. Happy International Women's Day. Celebrate the day by sharing this article with a future female engineer.