September 25 – 29 is Try Transit Week. This week is a national initiative to encourage and educate the community on sustainable travel options. For commutes across and around the Bull City, there are two buses, GoDurham and GoTriangle. There are 20 routes serving Durham.  All Durham, Cary, Chapel Hill, and Raleigh bus services will remain fare-free until June 2024.  
Getting Around: 
GoDurham created a Ride Guide to assist you with planning your trip. GoTriangle has videos with additional tips on catching a bus and staying safe while riding.  
Key Tips: 
No matter what bus you ride, here are a few essential tips to ensure a successful and safe trip.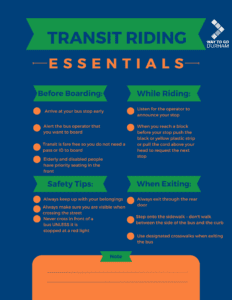 Track and Plan Your Trips: 
To track and plan your trips, download the

Avail myStop

 app to locate your bus in real-time. Download the App through the Apple App Store or Google Play today.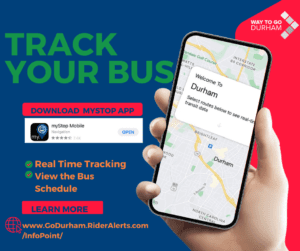 You can also track your bus on the 

Google Maps app

 and website. Select where you need to go in the

"Directions"

pane and select

"Transit"

by choosing the "Transit" icon. 

 
What Happens if I Have an Emergency and Need to Get Home? 
If you live or work in Wake, Durham, or Orange counties and use the bus, share a ride, or use an active commute, we can help you get home quickly with the FREE Emergency Ride Home (ERH) program. To register, visit Share The Ride NC.  
The ERH can be used when:  
You or an immediate family member gets sick or has a severe crisis.

 

Your carpool driver has to leave unexpectedly early or stay late.

 

You must work unscheduled overtime.

 
Commute Benefits Program: 
When you track and label your trips on Share the Ride NC, you are entered into the prize drawings from the GoPerks program. This platform also allows you to track the impact of your commute through money saved and carbon emission reductions.  
Celebrate Try Transit Week by exploring a new Way to Go around Durham. To establish your commute pattern, visit Share the Ride NC or contact us on our website for additional help.