Since 1956, the American League of Bicyclists has recognized May as National Bike Month. This celebration seeks to boost the morale of cycling by promoting events, programs, and initiatives to enhance cycling and safety nationwide. This year, Way to Go Durham has partnered with our neighborhood biking and pedestrian advocacy group, Bike Durham, to promote events and provide resources to enhance the cycling experience of our community.
Here are a few of the events on our radar:
Jumpstart Bike Month with Walk, Bike, and Roll to School Day on Wednesday, May 3.  This event is for school children and their families to explore sustainable travel on their way to school by walking, riding scooters, or bikes while practicing learning bike safety techniques. Over 800 schools are participating this year, including schools in the Bull City. View the list here. Up next is Bike Durham's Bike Month Kick-off event and 10th Anniversary Celebration on Saturday, May 6, at the Durham Museum of History. The event will feature refreshments, prizes, bike checkups, and more. To attend this event, register here. If you want to lead your own "Do It Yourself Bike Ride," Bike Durham has curated numerous bike routes using the Ride with GPS platform. Visit the Bike Routes page here.
To stay in the know of more events, visit Bike Durham's Bike Month Web Page.
For information on Regional Bike Month Events, visit GoTriangle's Bike Month Page.
Bike Month Resources:
Way to Go Durham has created a series of resources to enhance your bike month experience this year with a one-stop shop website page. The page will help refresh your knowledge of bike safety tips and NC Bike Laws. It will also provide insight into new bike improvement projects later this year.
This month, we want you to be safe and to be seen as you bike across our City and beyond. Here are our top safety tips for this year's Bike Month.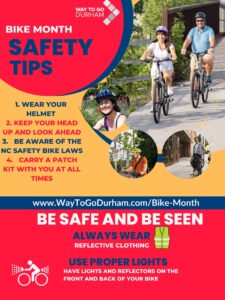 Take a chance and celebrate National Bike Month. Whether you are a skilled cyclist or a beginner, there is something for everyone this month. With cycling, no matter what capacity you participate in, know that you are actively creating safe streets, a healthier environment, and a more engaged community. Remember, be safe, be seen, and always wear your helmet. Happy Bike Month!